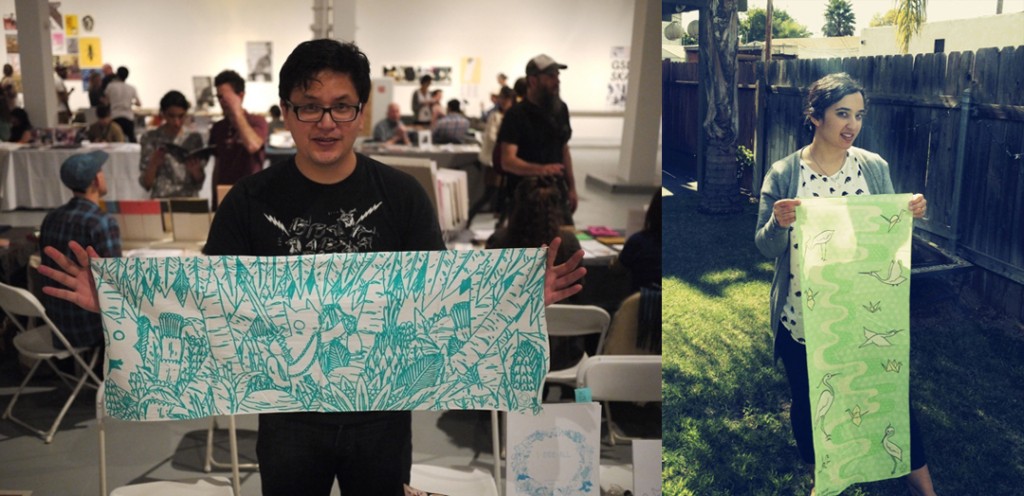 Have you received your interTrend twentieth anniversary tenugui yet? To commemorate 20 years of evolution and achievement, the agency has created a special collection of 10 tengui-inspired handkerchiefs. Having previously blogged photos of five artists and their contributions, I finally rounded up images of the remaining participants with their pieces. Above: Deth P. Sun at the L.A. Art Book Fair and Susie Ghahremani in her San Diego backyard.

Above: Allister Lee in his Toronto studio and jeffstaple somewhere around the world in front of his laptop. Below: Prodip Leung in his Hong Kong home studio. The final image shows the inside of the tenugui wrapping, which includes a brief manifesto and short biographies of artists, including the five contributors previously blogged: Sophia Chang, Miran Kim, Stella Lai, Monkmus, and Qingnian Tang.
The traditional Japanese cloths serve numerous functions (bandanas, wipes, kendo) but are also used as decoration, made as souvenirs, and given as gifts–as in this case. I hope one works its way toward you.