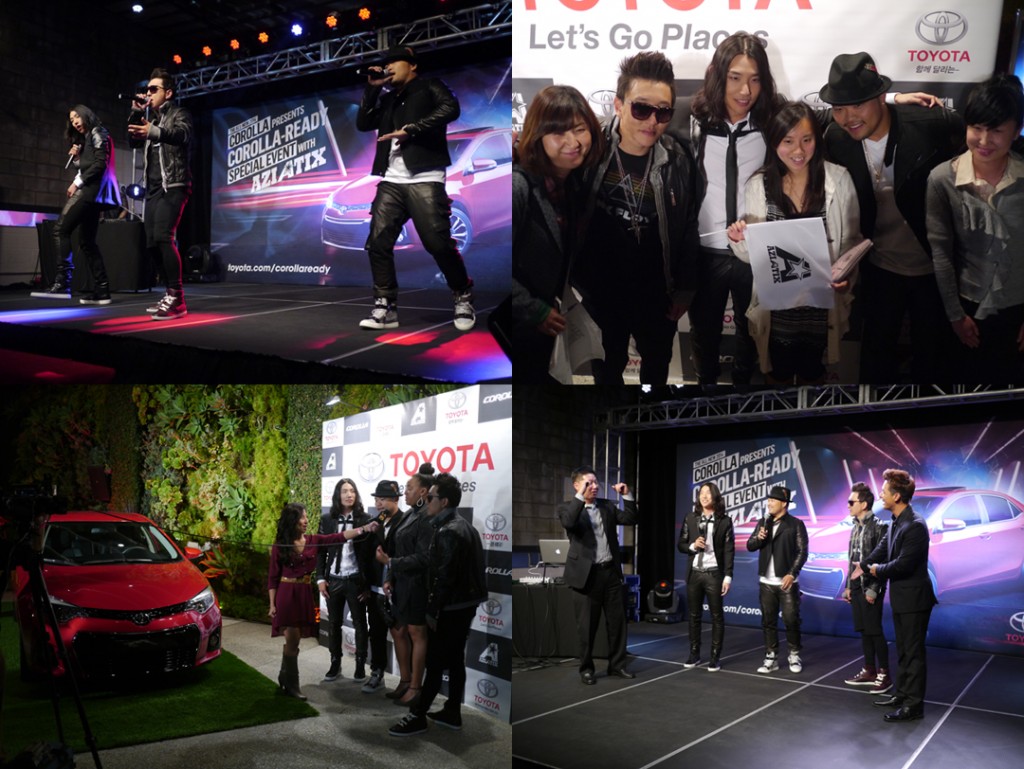 Last night at the Smog Shoppe, Aziatix gave an invite-only performance and meet-and-greet for fans and the media to promote their brand-new single which is being used to promote the latest Corolla campaign. Following Hatsune Miku and HyunA, Aziatix is the newest Asian musical talent to support Toyota's centerpiece model.

Following introductions by K Pop icon Danny Im (1TYM, Mnet), Toyota's David Chung (National Manager, Targeted Advertising and Strategy), and label spokesperson Lynn Scott (Vice President of Marketing for Cash Money Records), the group came out to debut "Baby, Let's Go" to the intimate crowd at the converted auto garage.

The song, which was written specifically for the Corolla campaign, is being released as a single by Cash Money Records but is also the centerpiece of a series of commercials and online clips. The pumped-up blend of R&B, rap, and K-pop is super catchy, and will not disappoint the trio's hardcore fans in Asia and America. I expect it to attract new fans to the group, as well–not to mention direct attention to the revamped Corolla.

The performance was followed by the global debut of the accompanying music video and a casual Q&A with the group. Topics ranged from how inspiring it is to collaborate with K-pop stars, what a treat it was to work with Toyota, how scary it was to shoot a video around the prototype model, and doesn't everyone have Hello Kitty air fresheners in their cars? Nice guys, all around.

Of course, the highlight was when fans could mingle with Aziatix. I spotted homemade T-shirts and signs, group flags, and flashlights, and overheard that some attendees had traveled from out of state to be at the event. Check out the song, videos, and ringtone, at the Corolla Ready site, and enter for a chance to see the band perform the song in concert yourself.
Congratulations to the Aziatix, Toyota, and interTrend teams for putting together a packed launch event and cool campaign. We look forward to seeing it take off.