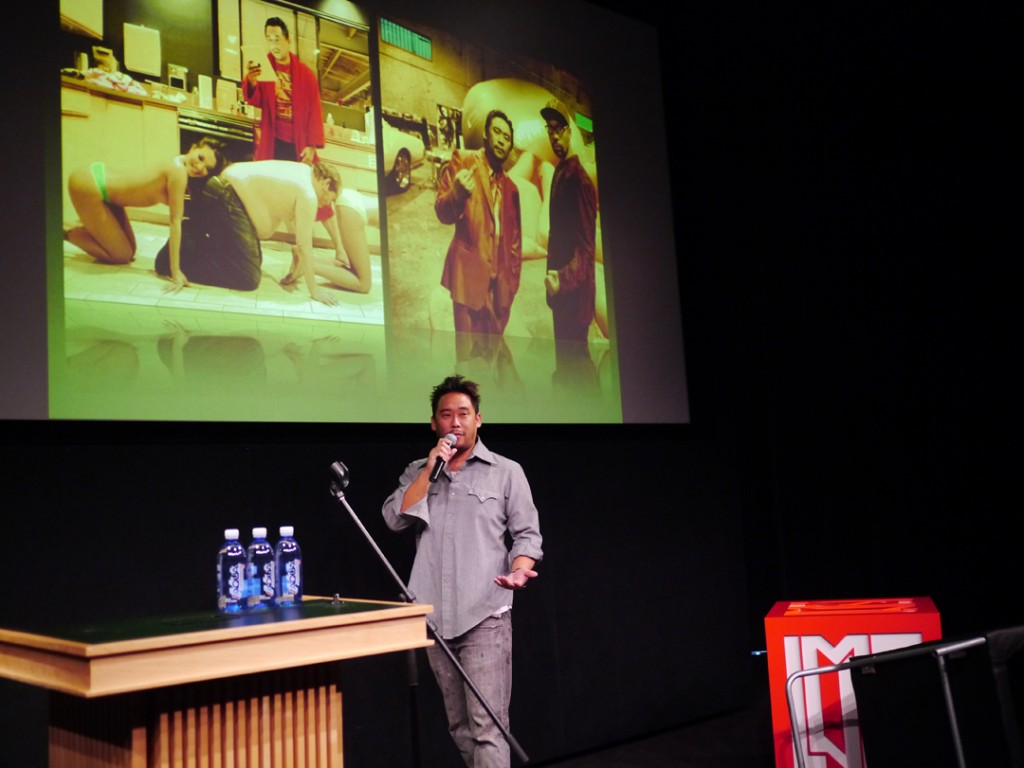 Yesterday interTrend's sister company Imprint presented a rare lunchtime talk by artist David Choe at the National Center for the Preservation of Democracy in Little Tokyo, Los Angeles. In case you didn't secure a ticket to the sold-out event, here's a brief and not completely SFW recap.
The event started off with intros by DVDASA crew Bobby Trivia and Critter, followed by walk-in music of Burzum. You're familiar with the infamous Norwegian black metal of Varg Vikernes, murderer of Euronymous Aarseth and the arsonist of three churches, right?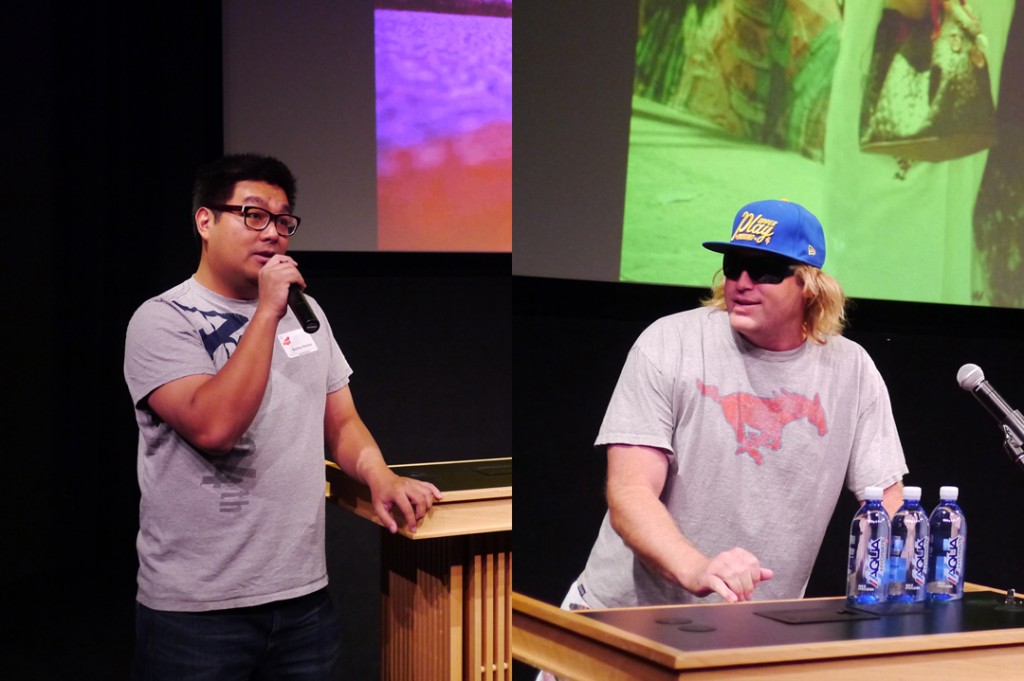 The highest-paid living artist started off by saying that many consider him to be lucky because Sean Parker famously commissioned murals in the Facebook office in exchange for some ownership. But Dave points out that Parker had been stalking him and inquiring about art since Napster days. It wasn't luck; Dave was a hard-working, awesome artist. The talk would outline some rules to follow to become awesome, couched in trash talk, insults, and seemingly random stories.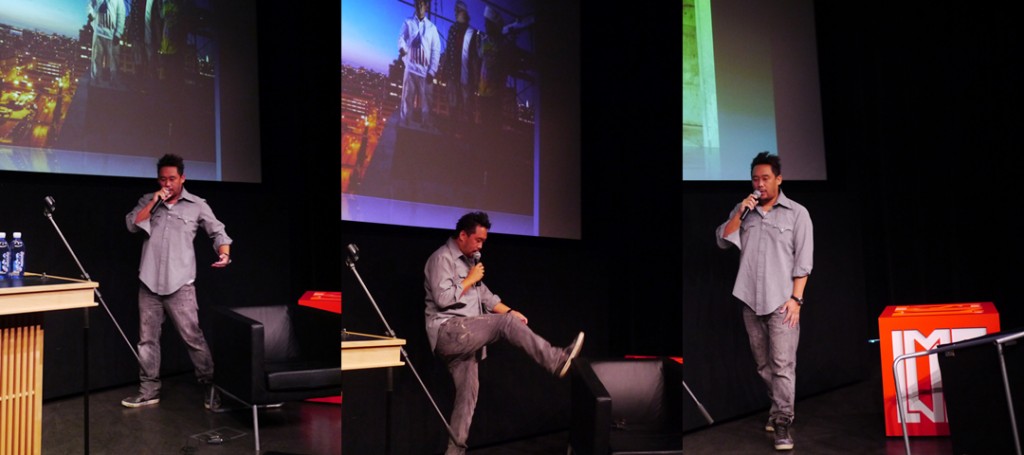 The first rule: "Do whatever the fuck you want." Dave has Irritible Bowel Syndrome but doesn't let that stop him from eating lasagne, grilled cheese, and other Western foods that mess with his Asian digestive system. Rather than let I.B.S. rule him, he wears tighty whities and sits on the toilet often.
The second rule: "Persistence." Dave cited having lunch with our mutual friend Bill, who said that he was leaving the friend zone of a female acquaintance. When Dave informed Bill that isn't a choice guys get to make, he responded that it was possible because he's been hanging out with her, listening to her rebound stories, and servicing her ego for 20 years. Bill's friend's years as a hot young thing are over and so is her leverage. That's persistence.
Dave began mixing up the rule numbering after this, but other points included taking "never" out of your vocab (whether it refers to unsavory food or unhygienic intercourse), being miserable (on purpose to fuel your creativity, which is why he stopped living in luxury and moved into his parents' garage), and not giving up.
For the final point, he introduced an audience member who was visiting from Utah. Just a few weeks ago, the young artist had suicidal thoughts stemming from girl problems and was wandering around Salt Lake City when he stumbled upon Korean Jesus himself (who was looking for hot Mormon chicks). The K Person's advice? Don't kill yourself with pills now, wait a year and then do it in a way that makes a statement.

Before the Q&A interTrend's own Julia Huang told some revealing stories about Choe's parents and his recent art show in Mexico City, and the first question was one of his high school classmate asking him to paint a portrait of his infant son. Dave kindly declined, citing that babies are hard to paint. One wrong stroke and he looks too old.
Other audience questions and requests included trivia regarding his appearance in the "Smells Like Teen Spirit" video (Dave got a flyer, ditched school, and went), why he doesn't date K People (his mom is already enough in that department), how far he's gone with transvestites or transsexuals (not very, but he's open to the idea), and what happened earlier in the talk (Dave told the late-comer to "fuck off" and never be late again). As a wild animal's turd might have a fruit seed buried in the middle, each of Dave's insults offered an opportunity for growth. It was strangely and honestly inspiring.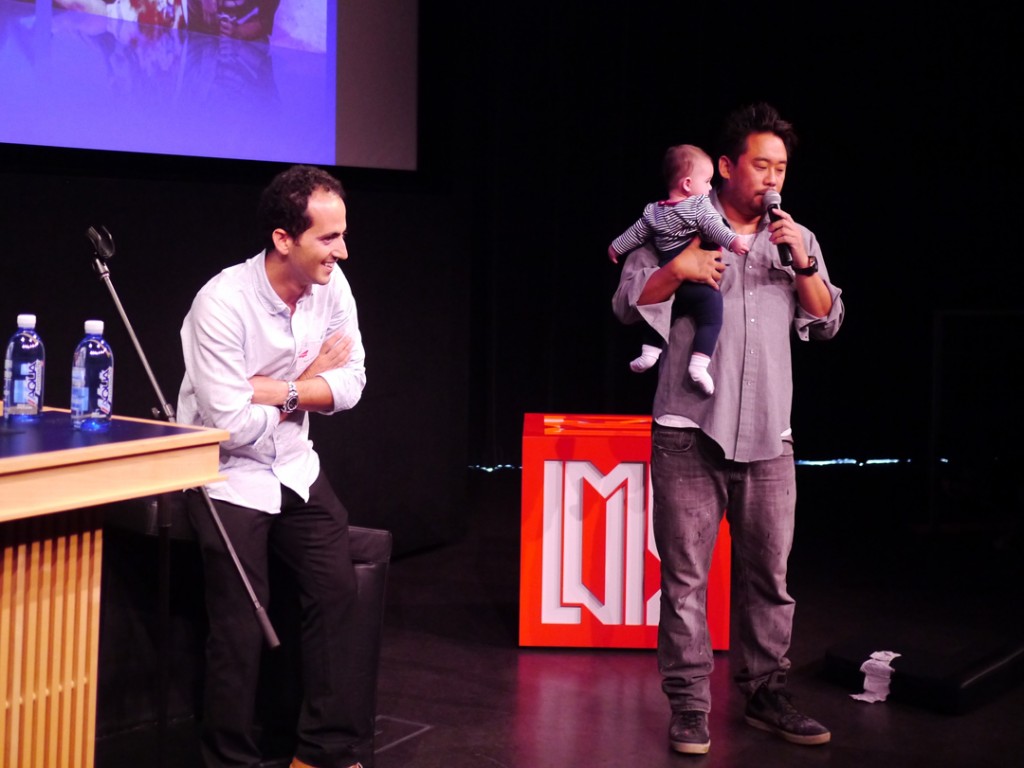 Thanks to Dave for waking up early and dragging his hard-working DVDASA crew to Little Tokyo for the talk. And extra thanks to the Imprint family who made this event possible. John and Flo had their hands full but that's Tanya and Julia on either end of this group shot below, along with Imprint alums/friends of interTrend Paul Kwon and Stella Lai. I was there to enjoy hearing my old friend talk and share it with you!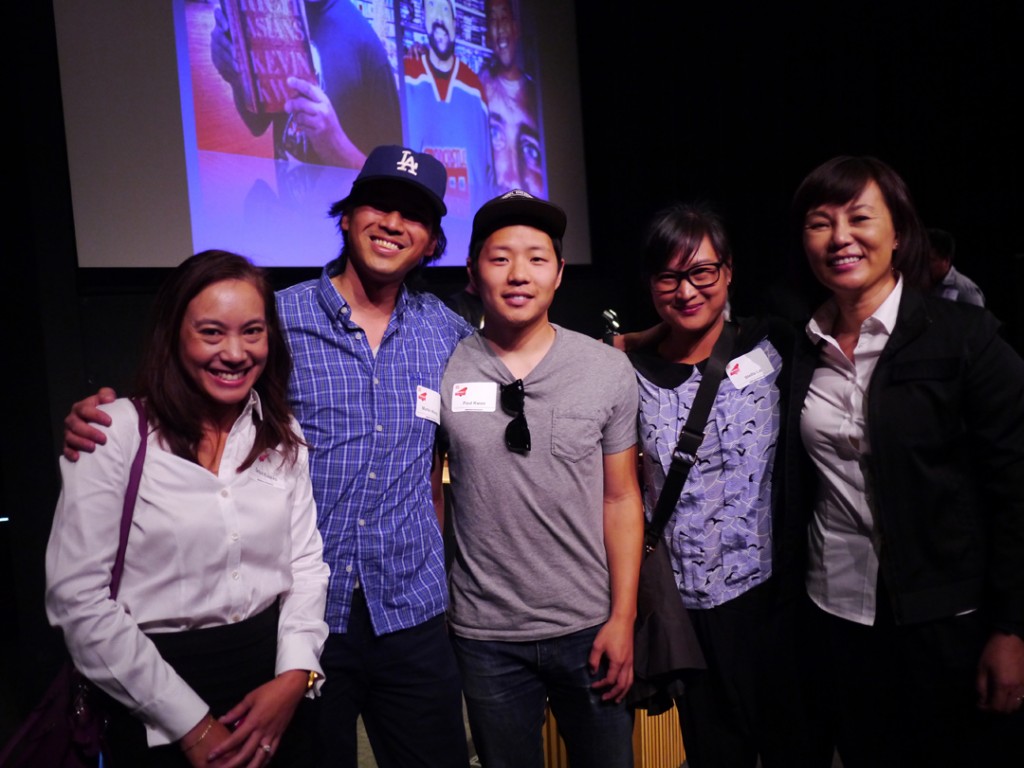 Keep an eye on the Imprint website and Imprint Facebook page for future events. The list of future speakers that's building up is quite impressive, and you won't want to miss any of them.